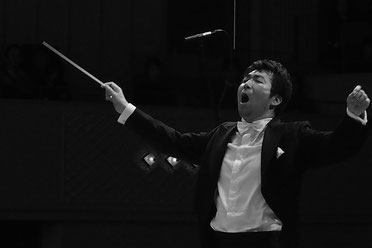 Yonezu won the Prize of Honour and Bruno Walter Prize (Best Conductor) at the Masterplayers International Conducting Competition (Lugano) in 2008. Yonezu was one of the three finalists of the "Victor de Sabata" International Conducting Competition in October 2009 in Italy and nominated for the allianz international conductors' academy which is an initiative of the Allianz Kulturstiftung in cooperation with the London Philharmonic Orchestra, the Philharmonia Orchestra London and the South Bank Centre London in 2010. Yonezu received a scholarship for his work from the Agency for Cultural Affairs in Japan in 2007.
Guest conducting engagements have included the Japan Philharmonic Orchestra, Kyoto Symphony Orchestra (Japan), Hamamatsu Philharmonic Orchestra (Japan), Tokyo College of Music Symphony Orchestra, Slovenian Philharmonic Orchestra, Slovenia RTV Symphony Orchestra, Sarajevo Philharmonic Orchestra, Rijeka Philharmonic Orchestra (Croatia), Macedonian Philharmonic Orchestra, Philharmonia Oltenia (Romania).
Yonezu is now an assistant professor of the Tokyo College of Music (2011~).
Yonezu made his debut conducting a special concert of a program on the works of Mozart that was presented by the Slovenian Philharmonic Orchestra in November, 2006. Immediately following his success, Yonezu was chosen as a fill-in conductor and performed a special concert that was hosted by the Embassy of the United States in Ljubljana and whose program included a concerto with David Hardy, Principal Cellist of the National Symphony Orchestra of Washington. 
Due to the sudden unavailability of maestro Milan Horvat, Yonezu was selected as a guest conductor for a subscription concert of the Slovenian Philharmonic Orchestra in October, 2007. The concert turned out to be extremely successful and a number of local newspapers and radio stations picked up on his spectacular debut. 
Toshihiro Yonezu participated in Master-level conducting courses at various locations across Europe, including the International Musica Riva Festival 2002 and 2003 in Italy, the Internationale Sommerakademie PRAG-WIEN-BUDAPEST 2004 in Austria, the International Conducting Academy of Portorož 2005 in Slovenia, and the Masterclass of Orchestra Conducting in Portugal 2010 where he studied under Isaac Karabtchevsky, Istvan Denes, George Pehlivanian, and Alexander Polishchuk respectively.
Following further training, he led the Orquestra do Algarve, the Musica Riva Festival Orchestra, the Baden Sinfonietta and the Dinu Lipatti Orchestra. He earned acclaim at the Japanese Metropolitan Opera, in the municipal opera house of Shinjuku and Nagoya, Performing Gianni Schicchi, La Traviata, Die Zauberflöte, Cosi fan Tutte, Die Fledermaus and other works in Japan.  
Yonezu was born in Aichi, Japan in 1972 and completed both his Bachelor's and Master's Degrees at the Aichi University of Education's, Department of Music, where he studied piano and musical education. He later continued his studies in orchestral conducting at the prestigious Tokyo College of Music. His conducting teachers included Maestro Jun-ichi Hirokami and Kazue Kamiya.